An elegant, timeless aluminum fence adds undeniable curb appeal, it's true. But did you know it can do more than just accentuate your landscaping? Your aluminum fence can be a useful safety barrier around your pool to provide extra security by restricting access to your property.
DELGARD Premier Aluminum Fencing provides an elegant and stately accent to any home or workplace. For almost 20 years, DELGARD has offered the traditional beauty of wrought iron without the costly and time-consuming maintenance required of other fencing systems. DELGARD states with raw aluminum, a special titanium bearing alloy and fabricates it into a durable and distinguished product that will accent any home or property. Plus every DELGARD fence features the exclusive Diamond Kote 10,000™ paint finish and a limited lifetime warranty against cracking, chipping and peeling.
Canton Fence stocks and supplies DELGARD Premier Aluminum Fencing in three grades, five different colors, and seven standard heights, with custom packages available upon request. An aluminum fence will enhance the beauty of your home or property. And your fence will keep its great look because it is the ultimate combination of strength, beauty, and durability, supplied with a limited lifetime warranty.

Different Types of Aluminum Fence
Click a link below to view the various fence types available.
Residential Fence & Residential Gates
Delgard Residential fences are a perfect choice for swimming pool fence and perimeter fencing. Matching fence gates are available in widths of 36", 42", 48", 60", 72" and feature self-closing hinges and the new Versa-Latch or the Magna Latch.

Aero Fence & Aero Gates
Delgard's Aero fence provides the comfortable look of Residential fence with added strength and durability. Aero's unique versatility makes this fence a great choice for swimming pool fence, estate fencing, golf courses, and housing developments. Matching fence gates are available in widths of 36", 48", 60", 72", 84", 96" and double or driveway gates sizes of 72", 96", 120", 144", 168", 192" and feature self-closing hinges and our new Versa-Latch or Magna Latch.

Commercial Fence & Commercial Gates
When you need additional strength and security, turn to DELGARDS's Commercial fence systems. Parking lots, play centers, manufacturing facilities, and community swimming pools are just a few of the commercial locations that utilize DELGARD Commercial fences. Matching swing gates are available in widths of 36", 42", 60" and double or driveway gates sizes of 72", 84", 96", 108", 120", 132", 144", 156", 168", 180" **. Cantilever gates, which slide open and closed, rather than swing, are also available for openings.

Sizing
All types come in sizes 48" to 96".

Color Selection
Choose from the following colors.




Accessories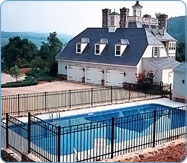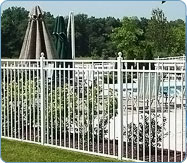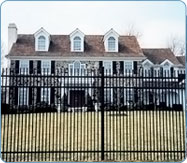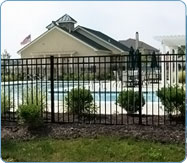 We are proud to be family owned and operated and in business for 44 years. Our advantage is our common values, strong commitment, loyalty and stability. We take great pride in the quality of our products and services. All our prices are at wholesale costs to pass on the savings from our family to yours.


Canton Fence, 1219 Washington Street, Stoughton, MA 02072
TEL: (781) 344-7366 and (508) 583-5948 · FAX: (781) 344-4355