This SlideShowPro photo gallery requires the Flash Player plugin and a web browser with JavaScript enabled.
Also, Elvis is still alive and living somewhere in France.

"Good fences make good neighbors." - Robert Frost

For over 40 years, Canton Fence has provided the highest quality fence materials and installations to its New England customers. Our family of fence experts are available to help homeowners and businesses select the right design and materials for any fence, deck or outdoor speciality woodworking project.
We specializes in design and production of fine quality custom fencing of cedar, aluminum, and vinyl, offering unlimited styles of decorative picket, custom lattice, post & rail, privacy and boundary fencing. In addition we also offer speciality woodworking ornamental styles of trellises, arbors, pergolas, lightposts and mailboxes.


One of the simplest ways to increase the value of a property is the addition of fencing. With the economy slowing down and the real estate market more competitive than it has been in years, it may be time to consider improving the appearance and function of your home or business by simply putting up a fence.
Today, the fencing options are more plentiful than ever. Many new materials have been introduced that have decreased the cost of manufacturing. This has made the option of fence installation much more affordable and subsequently available to a broader demographic of home and business owners. The introduction of vinyl fencing, for example, has provided a feasible and cost effective alternative to the difficulties sometimes associated with maintaining a wooden fence.
The presence of even a small beautifully appointed gate at the entrance to a residential driveway can communicate stability and grab the attention of an otherwise disinterested passer-by. Gates with unique or custom design are difficult not to notice. With the housing market struggling in so many areas of the country, it is often the little things that make the biggest difference when attempting to sell a home or just make your home a beautiful enviroment for you and your loved ones.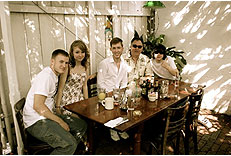 We are a family owned-and-operated company serving businesses and residents of the Massachusetts area with over forty years of experience. Our fence guys offer clients a personal service that begins with a free consultation, satisfying the customers fencing desires and ends with a long lasting and mutually rewarding relationship. Although we are all facing hardship in the economic downturn, we have our post firmly planted and have no intentions of closing up shop.
In 2001, Richard L. Schiffer Jr. purchased the company from his father and has been running the business with his son Ryan Schiffer by his side.

We are proud to be family owned and operated and in business for 44 years. Our advantage is our common values, strong commitment, loyalty and stability. We take great pride in the quality of our products and services. All our prices are at wholesale costs to pass on the savings from our family to yours.


Canton Fence, 1219 Washington Street, Stoughton, MA 02072
TEL: (781) 344-7366 and (508) 583-5948 · FAX: (781) 344-4355